Mental Calculation World Cup 2012
Gießen, Germany, 29 September - 1 October 2012

CONTENTS: Mental Calculation World Cup Web Site | Maths Links
WORLD CUP 2012: General Information | Results | Mathematikum


The Mental Calculation World Cup 2012 took place at Mathematikum, a science museum in Gießen, Germany.


32 calculators from 16 countries took part.

The first highlight of the MCWC 2012 was a tutorial about factorization of numbers. Willem Bouman from the Netherlands presented his method for finding the prime factors of large numbers.

World Cup Winners: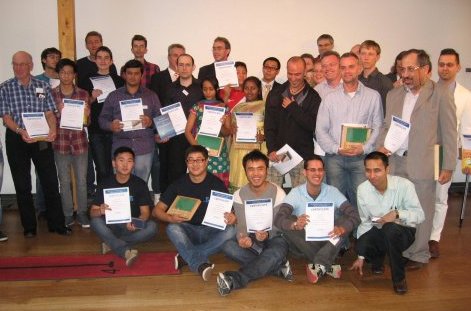 The world cup winner in the overall ranking was Naofumi Ogasawara, a soroban teacher from Japan. Hua Wei Chan (Malaysia) came second and Jan van Koningsveld (Germany) third.

The world cup winners in the separate categories were:

Addition: Naofumi Ogasawara (Japan)
Calendar Calculations: Myagmarsuren Tuuruul (Mongolia)
Multiplication: Freddis Reyes Hernández (Cuba)
Square Roots: Naofumi Ogasawara (Japan)
Cube Roots (Interactive Intelligence Trophy): Jan van Koningsveld (Germany)
Most Versatile Calculator (surprise tasks): Naofumi Ogasawara (Japan)
The complete results can be found here.



Contacts:


If you have any questions on the MCWC, please contact info@recordholders.org.
The best place for discussions about the World Cup and mental calculation in general is the Mental Calculation Mailing List.




English

German

Russian

French

Spanish

Japanese

Chinese

entry form

download as RTF file or
download as PDF file
download as RTF file or
download as PDF file
download as RTF file or
download as PDF file
download as RTF file or
download as PDF file
download as RTF file or
download as PDF file




general information sheet

download as RTF file or
download as PDF file
download as RTF file or
download as PDF file

download as RTF file or
download as PDF file


download as RTF file or
download as PDF file
download as RTF file or
download as PDF file
traditional Chinese (文言):
download as RTF file or
download as PDF file
simplified Chinese (中文):
download as RTF file or
download as PDF file

detailed rules

download as RTF file or
download as PDF file


Rules for task 5:


download as RTF file or
download as PDF file

download as RTF file or
download as PDF file



download as RTF file or
download as PDF file
download as RTF file or
download as PDF file




CONTENTS: Mental Calculation World Cup Web Site | Maths Links
WORLD CUP 2012: General Information | Results | Mathematikum