World Records for Ball Control with Feet, Legs and Head (Keepy-Uppies and Freestyle Football)

---
You can also read about footbag records at: http://www.footbag.org.
The Freestyle Football Federation has an interesting web site at www.freestylefootball.org.

---
OFFICIAL RECORD LIST BY THE REKORD-KLUB SAXONIA
All "keepy uppy" - records in our list are achievements without the ball touching the ground or "resting" it on the top of the foot!

New record claims are welcome! What about a record for two players for successively passing a soccer ball? Can you establish a record for heading a soccer ball while swimming? Or can you break one of the records in our list? Please contact us BEFORE your record attempt.



The Footbag Book
for ball artists
As an Amazon Associate, the
maintainer of recordholders.org
earns from qualifying purchases.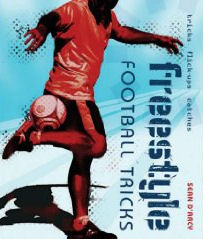 Freestyle Football Tricks
the trick book